The Pioneer Woman Bowl Sets are perfect for Fall soups and stews!
The Pioneer Woman Bowl Sets are perfect for any size portion, especially a man size. Beautiful flowers on the outside and a pretty red on the inside.
This is part of the Pioneer Woman Harvest Collection, so it features darker, fall looking colors and  are available exclusively at Walmart.
Ree Drummond created these to look new, but it has a vintage look too. The painted flowers look like they have some paint spattered on it. I think that's on purpose. It does give it a more vintage look. Can you see it in the picture?
---
How Wide is the Pioneer Woman Bowl Set?
The information says the Pioneer Woman Bowl Sets are 6 inches, but I thought that was a bit confusing, so I measured it myself.
My measurements are 6 inches wide across the top.  Big enough to get in there to eat hot chili with cheese and crackers broken up in there. Yum!
---
How Deep is the Pioneer Woman Bowl Set?
The Pioneer Woman Bowl Sets are about 2.5 inches deep. Combined with the width, this bowl will hold a lot of chili. They really are a good size.
I am picky about my bowls, but I like the size and the feel of this bowl.
Look how pretty it is on the inside! I love that shade of red for the fall season. But I can see me using these bowls all year long.
I had trouble holding the camera and the measuring stick at the same time, sorry the measurements are wonky in this picture. I did measure again and it is 2.5 inches deep.
---
Does the Pioneer Woman Bowl Set Have a Secure Base?
I am always concerned that a bowl will be too easy to tip over and that just won't do in my home. So I checked the base to make sure it was secure. I measured the base to be 3.75 inches wide.
The Pioneer Woman Bowl Sets are perfect for kids or just messy adults. It will not be easy to tip this bowl over, which I love for when the grand kids come to visit. Nice and sturdy and keeps up with the kids.
---
How Many Bowls Come In A Set?
The Pioneer Woman Bowls come in a set of 4, which is perfect for most families. They also come in other colors, this just happens to be the Harvest Collection for fall, so I wanted to feature it. Now is the season for soup!
---
More Pioneer Woman Bowls To Choose From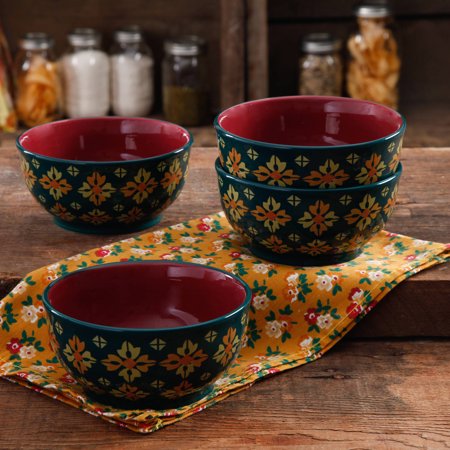 Vintage Geo Teal 6″ Non-Footed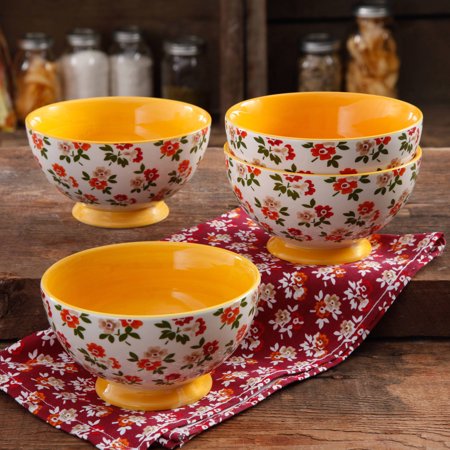 Fall Flowers 6″ Footed Bowl Set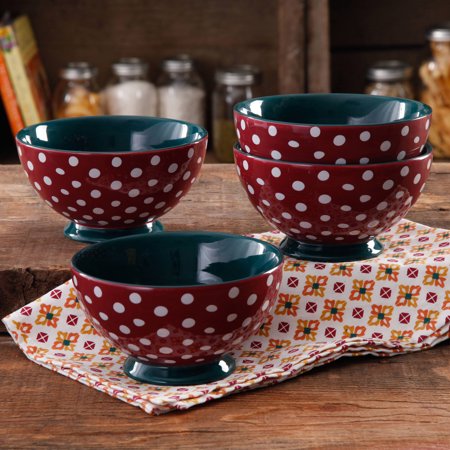 Retro Dots 6″ Footed Bowl

&
---
Ree Drummond, the Pioneer Woman Holiday Products!
Here is a look at the rest of her holiday products waiting for you exclusively at Walmart.com!
https://www.facebook.com/thepioneerwoman/videos/10154243575597858/
---
Pioneer Woman Recommended Reading
The Pioneer Woman Coffee Cups
The Pioneer Woman Dish Towels
The Pioneer Woman Dinnerware
---
Originally posted 2016-11-01 13:19:48.