Have you seen this adorable Pioneer Woman Muffin Pan Yet?
The Pioneer Woman Muffin Pan will make baking even easuer. I love baking with pretty pans. This one is so beautiful!
Daisies are one of my favorite flowers, so having them on the outside of the muffin pan is perfect for me. Three of the six muffin holes have pretty flowers on them and the other three are white.
These are new for fall and what a way to celebrate fall than to use this pretty Pioneer Woman ceramic muffin pan to make something yummy. Maybe try the Pioneer Woman Ree Drummond recipes for Muffin Melts, or Orange Marmalade Muffin. Yum! Find those recipes and put them below.
I can't wait to start baking with my new Pioneer Woman Muffin Pan!!!
It's called a decorative muffin pan, but you can bake in it up to 450 degrees. But don't put it back in the cupboard when you are done baking, show it off on a shelf or somewhere people can see it. It is so pretty and colorful that it will accent your kitchen beautifully.
I am in love with this  Pioneer Woman Muffin Pan! It blends in with my kitchen perfectly, just happened to have some flowers in my kitchen that matched.
I buy the Pioneer Woman dishes and things because they are colorful and pretty. I believe in having things around me that make me happy.  The kitchen is the place I spend the most time, why not be happy when you are in there?
Besides being pretty, they are good quality and I can use them every day.
---
Can I Bake In The Pioneer Woman Muffin Pan?
Yes you can. It's safe up to 450 degrees in your oven.
Don't be afraid to use it and it's also dishwasher and microwave safe. I would have never thought to put it in the microwave, but I put my ceramic dishes in there, so I guess it makes sense.
Here are the labels from the back side, just to make sure I am right on that.
Even the back side is a pretty teal color.  Love it!
---
Is the Pioneer Woman Muffin Pan Heavy?
It's heavy, like you would expect ceramic dishes to be, but not too heavy.
I worry because my hands and wrists aren't as strong as they used to be. If  a pan is too heavy, I will drop it. But I think I can handle this Pioneer Woman muffin pan.
With muffins, you aren't loading a pan full of heavy stuff, like a roast and all the fixings. This really shouldn't be too heavy filled with muffin mix.
---
Is This The Only Baking Dish That The Pioneer Woman Has?
No, she has a good variety of baking dishes in her collections. Here are a few more of the Pioneer Woman Baking Dishes that might make you happy too:
Loaf Pan

Pie Pan

Loaf Pan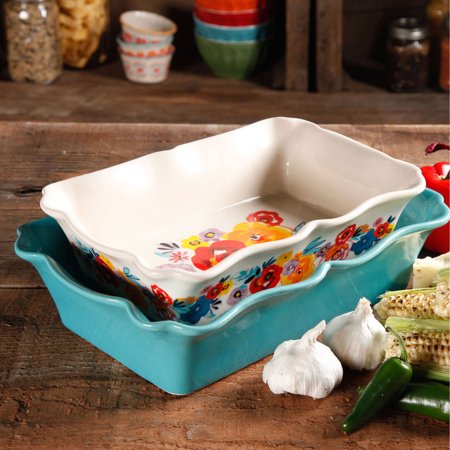 Rectangular Baking Dishes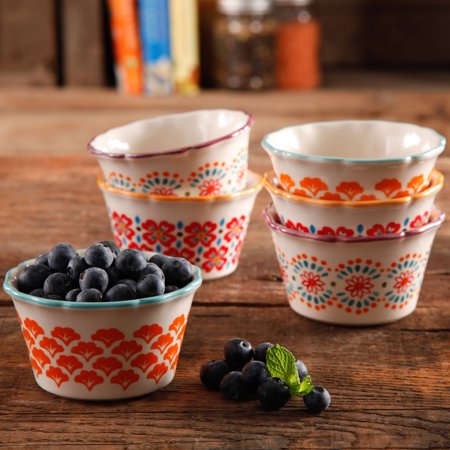 Ramekins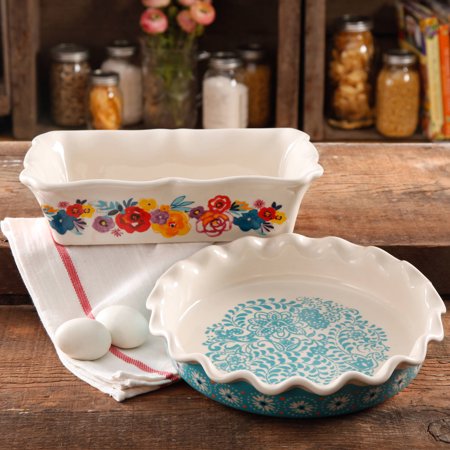 Pie Pan and Loaf Pan

&
---
Yummy Pioneer Woman Ree Drummond Recipes –

Check out a few recipes to make in your new Pioneer Woman Muffin Pan.
The Pioneer Woman Make-Ahead Muffin Melts
The Pioneer Woman, Ree Drummond recipes are always mouth-watering. The Make-Ahead Muffin Melts recipe is no exception.
A make-ahead recipe that would be perfect for breakfast or a quick snack when the girls come over for a visit. I am definitely going to have to try this recipe soon.
Find all the instructions and Ree's great photos right here.
---
The Pioneer Woman Orange Marmalade Muffins
These Pioneer Woman Orange Marmalade Muffins are to die for. Ree calls them "Good Morning Muffins".
She had me at "sugary spice mixture"! Yum!!! Warm muffins tasting like orange, with yummy, crusty sugar, cinnamon, nutmeg, spice mixture baked on top. What is not to love?
Here is where you can find this delicious recipe.
---
Pioneer Woman Recommended Reading
The Pioneer Woman Coffee Cups
The Pioneer Woman Dish Towels
The Pioneer Woman Dinnerware
&
---
Ree Drummond, the Pioneer Woman Holiday Products!
Here is a look at the rest of her holiday products waiting for you exclusively at Walmart.com!
https://www.facebook.com/thepioneerwoman/videos/10154243575597858/
---
Originally posted 2016-11-01 08:56:50.